CLOZETIVITY KITCHENS
Clozetivity of North Alabama is your source for custom-built storage cabinets and other organizational solutions to help make your kitchen space more manageable. Our experienced team of professionals will provide you with quality craftsmanship and a unique custom-built design tailored to your specific needs. With Clozetivity, you can finally have the organized kitchen of your dreams.
WHY INVEST IN a CUSTOM kitchen?
If you're looking to invest in your dreams of home-cooked meals and organized kitchen space in North Alabama, then custom-built storage cabinets are the way to go. With a custom-built storage solution, you can design the perfect solution for your kitchen space that will make cooking and cleaning up easy and efficient. Make the most of your home and invest in your dreams today!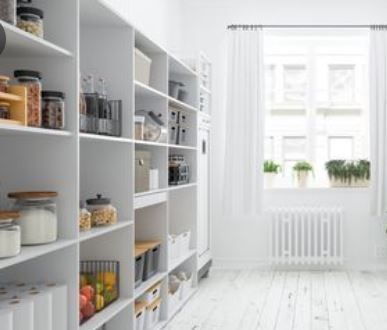 PROVIDE AMPLE STORAGE
We offer custom designed cabinets and other storage solutions to help you organize your kitchen and make your dreams of a clutter-free home a reality. Our storage solutions are easy to access and make it a breeze to keep your kitchen organized. Invest in our storage solutions today and enjoy the extra space you deserve!
STYLISH & CUSTOMIZABLE
Our custom storage solutions are designed to help you make the most of your kitchen or other living space. From cabinets to shelves, we have the perfect storage solution for your needs. Our custom-designed storage solutions are easy to access and stylish, allowing you to invest in your dreams without sacrificing the aesthetics of your home. With our customizable options, you'll have the extra storage you need to make your home more organized and efficient. With North Alabama Storage Solutions, you can make your home more functional and customize it to your exact specifications.
ADD VALUE TO YOUR KITCHEN
Invest in custom designed storage space from North Alabama Cabinets and make your storage dreams come true! Our cabinets are customizable and designed to provide you with the best value for your investment. Take control of your storage needs today and create a space that's tailored for your lifestyle!
WHY CHOOSE CLOZETIVITY OF NORTH ALABAMA FOR YOUR CUSTOM PANTRY CLOSET NEEDS?
At Clozetivity, we offer the best custom designs so that clients can make the most of their small or large spaces. That said, we also offer custom pantry solutions to make it easier to store your foods in an organized and efficient manner. Whether your current pantry includes a small or large area, our team of designers can create a custom-built pantry that will exceed your needs. Best of all, our products are made to last a lifetime, so no matter how long you decide to live in your home, you will always have a pantry that will satisfy the needs of you and your family!
Our team will take into account your wants and needs, and create a custom pantry with all the shelves and space you will ever need for food, dry goods, and anything else!
Get in touch with us today for a quote, as our team is ready to help turn your current pantry into a useful and effective space!