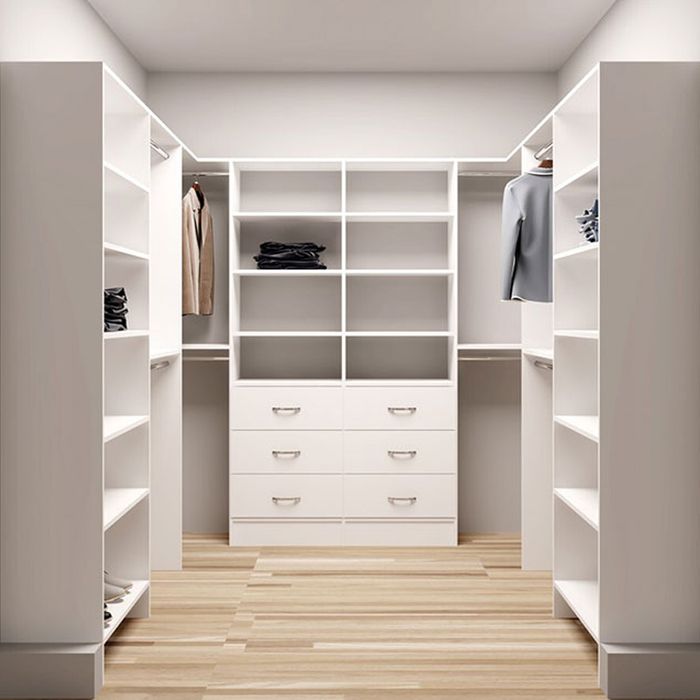 GETTING THE CLOSET OF YOUR DREAMS COULDN'T BE EASIER!
Curious about how you go from an unorganized mess and closet of shame to a closet or space you can't wait to show off? We make the process super simple!
Getting the closet of your dreams isn't a difficult, stressful, or even expensive process; here's what to expect when you work with a Clozetivity of North Alabama design consultant.
STEP 1: CONSULT WITH YOU
The first step in the process is to schedule a free, no-obligation consultation in your home. This meeting will take about an hour, and we'll discuss your closet organization needs, review the state of your closets and measure your spaces. During this process, we'll assess what you need to store, look for ways to consolidate storage since a Clozetivity closet will often allow you to organize and store more in a much smaller space. If you've shopped closets, have a design from another company or want to price shop, we can work to give you the best deal too!
STEP 2: DESIGN YOUR SPACE
For decades, the custom closet design process has been the same. A designer met you at your home, took measurements, sketched out a closet, and worked with a designer to layout the new design. This process was slow and often took weeks to get a design and a price. We use state-of-the-art software that, in many cases, with standard reach-in or walk-in closets, we can generate multiple designs to you on the same day. We will work with you to design a space that suits your needs and fits your budget. For custom closets with unique measurements, we can design a totally custom closet that takes 1-2 days. Fast and fun!
STEP 3: PLACE YOUR ORDER
Once you select the design you love, we'll send you a paperless proposal via email or text, and you pay your deposit. We'll order your closets, and typically, that takes approximately 8-10 weeks to arrive. All of our closets are manufactured in North America of high-quality materials. Once we know when your closet is ready to install, we'll schedule your Install Day!
STEP 4: PREP YOUR CLOSET
Before Install Day, Prep will need to be completed on your closet. Need help? We got you! With reasonable pricing, we can help spackle and paint your space to get it ready for organizing. Reach out to us for a quote on your specific space for pricing.
STEP 5: INSTALL DAY
Install Day is here! We will unload your closet from our van and set up the space. Once everything is laid out and organized, our expert installers will begin on time, work quickly, and ensure they leave your home in excellent, clean condition. Typical installs take 1 day for a single closet, and 1-2 days if you have more closets.
STEP 6: TIME TO FALL IN LOVE WITH YOUR NEW SPACE!
A new, amazing closet awaits! Time to fall in love with your closet!
Getting a new closet space that works makes your entire life less stressful and makes even the smallest home feel large. What are you waiting for? Getting a free, no-obligation design consultation is fun and we have open appointments in your area!